Biometric Hand Reader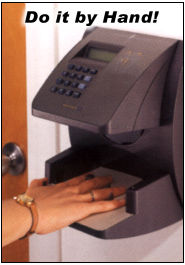 Now you can have the security and convenience of biometric access control - for the cost of a card-based system.
With our biometric hand readers and its accompanying softwares, you'll dramatically increase your security and eliminate time-wasting card administration. With these readers, your hand is your card.
Complete door access and monitoring
Automatic hand template management
Real time monitoring or audit trail mode
Easy setup and administration
Lowest false reject rate
Maintenance free
Able to read dirty/oily hands
Short verification time (1 sec)
Operates on Windows 9X/Me